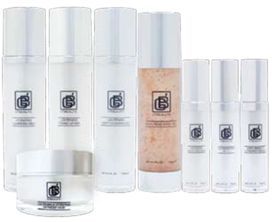 G'Beaute
The Discovery of Ganoderma Lucidum for a Healthy and Beautiful Skin.
Recently, Dermatologists and Medical Cosmetologists discover that Ganoderma Lucidum could act as a very effective anti-aging agent for skin rejuvenation and could increase skin metabolism to make it healthier and more beautiful. Hence, G'Beaute skincare series have been developed as a result of the studies done by experts.
G'Beaute skincare series were developed using the modern technology of skincare products from France together with the combination of natural plants and Ganoderma Lucidum extracts. It is a perfect combination and suitable for all skin types.
The excellent quality of G'Beaute is derived from the collaboration of the expertise of world's famous skincare products manufacturer and they are manufactured in the factory of International Standard and with the recognition of Current Good Manufacturing Practices (cGMP)
Now, It is no longer difficult to make everyone dream for beautiful, smooth, radiant and fair skin complexion. Thanks to G'Beaute and let's benefit from the G'Beaute skincare series to have a healthier and more beautiful appearance.